The future of law enforcement.
Administrator
Premium Supporter
The Ultimate Cheetah Guide​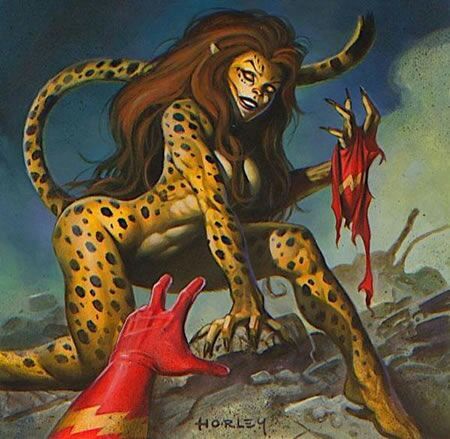 I figured I could go ahead and put together a basic guide to help people get acclimated to Cheetah, and continue to update and refine it throughout the life of the game. I still have a lot to learn, so feel free to share your own tech, combos, and corrections.
You can click the links in the Table of Contents to navigate to specific sections of the guide. This post will serve as a general introduction.
Table of Contents:
Introduction
Cheetah is an extremely mobile rushdown monster. She's amazingly fun to play and although she can bully many characters, she does suffer in some matchups due to her total lack of a projectile and a safe wakeup. That said, I believe she has the tools to cover herself nicely and get in against heavy zoning and footsies.
Type
: Power Character
Trait
: Boosted damage and chip to all "claw" normals and Primal Rage. Typically deals about double damage. Lasts 7 seconds with a 10-second cooldown.
Cheetah's strengths include:
Maybe the best f3 in the game (double-hitting +10-on-block long-range). This one move allows her to bully most characters in the game on oki and in the corner, as it will crush their armor and leave her either at +10 or doing a full combo.
Maybe the best d3 in the game. Seriously, this is one amazing button. It's like a d1 with a hard knockdown. 8-frame startup, almost totally safe, low-profiles many wakeups and projectiles (including mids like Darkseid's knee).
She doesn't have to be complicated. I've beaten many high-level players using almost nothing but f3 and d3. Many characters simply don't have an answer to those moves.
Her tick-throw game is on point. You're going to be throwing your opponent a lot.
Her mobility may be the best in the game. Her forward and back dashes are just straight-up bonkers, making it very easy to bait and whiff punish or just dash in d3 or throw. (Her back dash might legitimately be the best in the game.)
Her Blood Lunge allows her to immediately get in from up to full-screen, with j3 making her around +6 when she does so. She also gets easy j1 crossups from Blood Lunge. It's fast enough that your opponent has to be constantly on the lookout.
Did anyone say "+37 standing reset"? Because yeah, she's got that (off of a double-hitting 12-frame mid-low-mid...)
She's extremely safe. If blocked, she can almost always backdash to safety.
She also may have the best keepaway in the game, thanks to her Blood Lunge. She can make it almost impossible for her opponent to catch her once she has the life lead.
Overall, she bullies many characters hard. Once she gets a knockdown or even a blocked f3, she's got a million and one ways to leave her opponent confused, bloodied, and battered.
Cheetah's weaknesses include:
Her only long-range attacks are her Blood Lunge, which can be difficult to use and predictable, and her f3. Other than that, she has to be very careful and play a heavily footsie-oriented game, baiting and punishing mistakes. Luckily, it's pretty easy for her to do that against most characters.
Many of her opponents will simply walk backwards in the neutral; it's insane how effective this is at completely shutting down her offense.
Even with Blood Lunge, she can be zoned out pretty hard. She takes a lot of patience to play well. That said, once she gets a life lead, she can low-profile almost any projectile (and a lot of normals...) in the game, forcing her opponent to have to get in on her.
Her only wakeup is -24 on block and puts the opponent full-screen on hit. Not great. That said, it does leave you +40 on hit, which is enough time to trait up or go for a Blood Lunge.
Her air normals have zero priority; a sneeze beats her out of any of them
Her d2 has no horizontal range and no priority. Expect it to trade if it doesn't get outright beaten out.
Her biggest weakness, in my opinion, is her total inability to build meter unless she's right on top of her opponent. She can do good meterless damage with Trait, but otherwise is totally reliant on meter to break 400 damage.
Last edited: