Owner of DeepGamingResearch
Hey everyone, Looks like I'm back with a few new finds for MK:SM. Now I know some of these have already been found by other hackers years ago but not all of them. I decided to dig deep into the memory of MK:SM and I found out that there are 236 Maps on the game disk 12 of which are called "Extra Map" in the memory. I haven't been able to access the extra maps yet but I will update this post when I can. Check it out below:
I also found a debug menu hidden within the front end menu.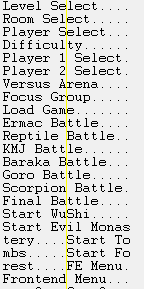 I've only been able to access this menu in game a hand full of times and it doesn't seem too stable in the final build most options softlock the game upon access but I will try to find a work around and report back as soon as I can (With my 6 days a week work schedule it may be a while
)
This last one will be the longest section but there is no way to shorten it without taking out vital parts.
While I was digging through the memory and trying to make the debug menu more stable I came across a list of every single Character that can be used in the Player slot. This is a very long list that consist of playable characters, NPCs,Bosses (Used and Unused) and animals yes you can play as a snake and a crow XD
These will be in order that they are found in the memory of the game. All are playable but some softlock the game if special moves are used. Any duplicates you notice are actually in the memory though I'm not sure why unless the devs used different models for cutscenes or something.
All Character Slots in order of memory appearance
Liu Kang
Kung Lao
Null (Banshee)
Null (Cannon Demon)
Clay Soldier
Null (Armor Lion)
Null (Ninja)
Null (Female Ninja)
Bloody Skeleton
Black Dragon Merc
Demon Captain
Demon General
Demon Archer
Demon Handler
Tarkata
Oni
Red Dragon Merc
Brother of Shadow
Putrid Corpse
Elemental Knight
Null (Ninja Wraith)
Null (Plains Snake)
Hanging Corpse
Null (Shiva)
Null (Chan Chan)
Null (Turban Guard)
Mask Guard
Shadow Priest
Null (Green Tarkata)
Undead Corpse
Orochi Hellbeast
Null (Shokan)
Null
Null
Null (Nagiri Swamp)
Null
Oni Warlord
Null
Null (Spirit Mask Basic)
Giant Wings
Crow
Living Tree Mouth
Living Tree Arms
Bat
Snake
Skull
Goro
Null (Tentacle)
Null (Snake Boss Rider)
Acid Snake
Null (Tiger Boss)
Scorpion
Noob Saibot
Kano
Inferno Scorpion
Baraka
Goro
Kintaro
Reptile
Null (Ice Boss)
Null (Wind Boss)
Shang Tsung (Old)
Shang Tsung (Young)
Shao Khan
Kitana
Mileena
Jade
Ermac
Sub-Zero
Smoke
Johnny Cage
Raiden
Kabal
Jax
Sonya
Burning Monk
Order of Light Monk
Null (Tortured Person)
Null (Dismembered Body)
Kintaro
Scorpion
Baraka
Reptile
Ermac
Stone Johnny Cage
Null (Tarkata Grunt)
Sub-Zero
Kitana
Johnny Cage
That's all I've got so far folks though I just started messing around with MK:SM about a week ago so I've feeling that they will be a lot finds posted here before long. As always thanks for your time and I look forward to reading your replies below.