The Casual God
Premium Supporter
Mortal Kombat XL Online Tournament (PS4)
MARQUEE MATCHES
&
Results



First and foremost shout outs to the players, viewers, & fellow streamers who made this event a lot of fun to host. Stream capped at over 100 viewers during the inaugural Stream and what a Stream it was. Featuring players from all over! Full
Unedited Stream
.
Jeremiah0392 Vs ADM Fierce
The action didn't need to pick up for it was already on 10 from the gate. The first match featured Jeremiah0392's Hollywood Cassie Vs ADM_Fierce's (@DsV Fierce) Demolition Sonya. Staggers, Grenades, and Conversions? Oh my! The first round started off as typical mother daughter battles go. Screaming, yelling, blaming eachother, before chucking remotes, pillows, and ultimately grenades and bullets. Fierce lived up to his name putting in work with those military grade explosives, putting Jeremiah on his heels quickly.

Try as Jeremiah might, his Cassie looked for every potential opportunity to find her turn to get back in it but was met with a timely stun grenade. Convincing two rounds as ADM Fierce Takes game one. Jeremiah then switched his pick over to Shirai Ryu Takeda. In game 2, this whips, the kunai, and the staggers came out strong. Showing that Jeremiah just wasn't going to take this grenade pressure lying down. Landing some sick conversions such as the "Anti Dive Machine". Knocked the "R" Right out of Fierce's name on the scoreboard.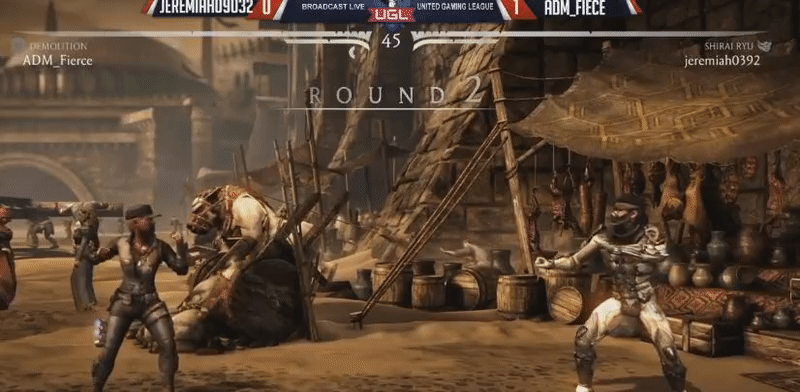 Ultimately the set carried on with the rounds being closer but ADM's Fierce came out on top with a 3-0. However now he had to deal with statistical favorite @Tweedy for his troubles. Full Match
EXiLE Tweedy Vs ADM Fierce
Tweedy has been known to not hold back on his "Silver Tongue" and he didn't disappoint in the chat. Calling for people to be banned, have their privileges revoked, saying "I do PayPal" and "Just give me the money already". Confident in his abilities as any competitor should. Especially after having good showings in the Kombat Kup, the Critical Reaction weeklies, and at TCW. Here would be no different.
This game was off to an interesting start, Tweedy displaying some good defense not getting opened up by the grenades or the mix up game Fierce was putting on in games one and two convincingly. Game three was a different story Fierce pulled out all types of conversions, such as anti-airing a Possessed Kenshi Teleport, with arc kick, then running in to finish the Kombo and Reload!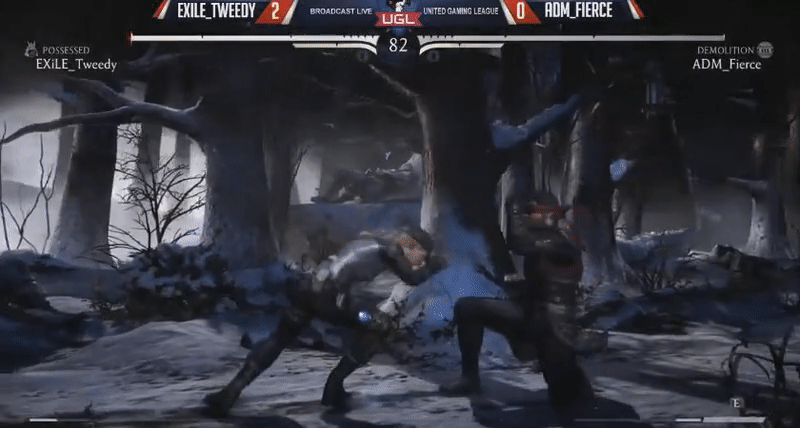 This was a Sonya on her last legs in the winner's side of the bracket and she's not going down without a fight. The game in the New Age Dead Woods unfortunately would be where Sonya fell to the Blind Samurai in 3-0 Fashion but in by no means was it dominant. A couple of reads was the deciding factor throughout the entire set.
ADM Fierce Vs Quiz Man 12

Fierce's Trek through the loser's bracket would begin but, it would be no easy task. His first opponent there would be @Quiz-Man12, who is here because he got DQ'd for connectivity issues, Playing a game with a random instead, then joining the wrong room. Could Quiz Man and his Reptile bring his winning chances and the Saurians back from the grave? (
Full Match
)
​

The circumstances above really made the Chat start rooting HEAVILY against Quiz Man. No one really likes quizzes of any kind for that matter. However after an intense game 1, it looked like this might not be a Quiz, that Fierce studied for. Fierce was opened up by the overhead continuously Quiz takes the 1-0 advantage. As I said on Commentary "Sometimes its the people who don't follow directions who are gods at MKX".

Quiz Man utilizing his space, showing off that forceballs and spit is all you need to control space. Getting some neat conversions of his own to take another 2 quick rounds. Going up 2-0. ADM's Fierce was down 0-2 again, any lesser player would have panicked. Would he rise to the occasion or fall off!?

After the dust settled we were on to Game 3. Fierce sticking to his Sonya and being very cavalier with his meter expenditures. Cashing it all out on a X-Ray that was more to make a statement to take round one than it was optimized. Fierce getting on the scoreboard with sound fundamental play, by putting the Reptile in an explosive cage.

Then Game 4. Which proved sometimes you know the mix, but the mix don't care. You get hit anyway.

Look at this Defense by Quiz Only to turn into "You Can't Block 4ever":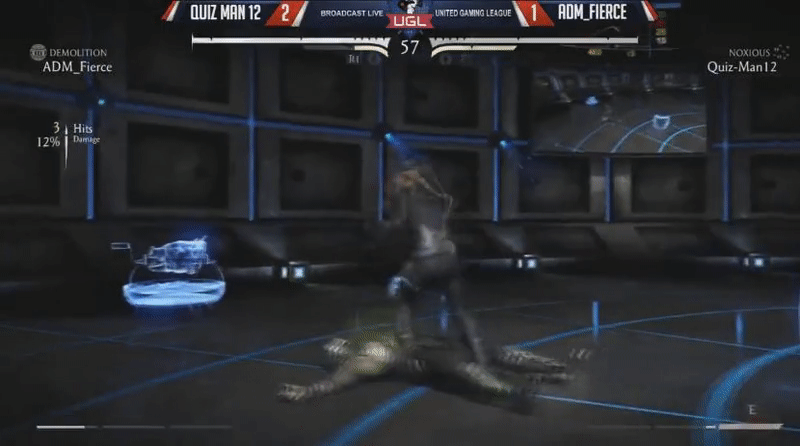 Fierce takes it to FINAL GAME HYPE! Game 5. Which had all of the theatrics. Sick conversions? Check. Optimized Damage? Check! Salty Viewers? Double Check! Bringing out the "Exposed" Song? Oh it happened! The Chat was swaying back and forth, some typing "Free Quiz", "Not Like This" & "Don't let Quiz Win". Quiz played a real nice heel though, all the way down to having the stream blasting through his Microphone causing feedback. (It was Muted).

The Set went down to Final Game, Final Round and then this happened..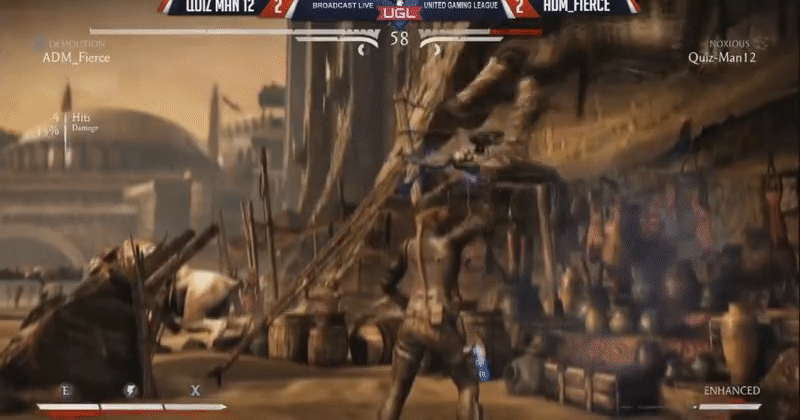 The Chronicles to the Finals
All of the competitors have been giving it there all. Whether it be watching @ESP-_BLACK's Scorpion torch people, oxMilk throwing down in the
Sonya Mirror
, or the hype in the chat, everyone gave it everything they had to claim the Prize. However two competitors stood out to play some fantastic games in the Winner's Final (
Here
).

It featured Tweedy & ESP Black. Tweedy's Possessed Kenshi put in work with some sick conversions early, utilizing the overhead demon slash effectively. Black did not have an answer for this move game 1. Tweedy taking a 1-0 lead with authority.

Going into game 2 it was much more pressure orientated. Black going for the restands ending in standing 3 for frame advantage into the mix. Punishing Tweedy's OH teleports with a teleport of his own on reaction. Lots of footsies and space control being exhibited by two players that know their character. Black and Tweedy taking Game 2 to round 3.Each player brought their A-Game here. Each knowing where to poke out, what to punish with, and how to optimize the damage! At times Tweedy would even "Take the hit" of the 214 string in order to avoid the Fire Ball Cancel block pressure. However at the end Tweedy had to pull a clutch out take game 2 by shutting down an EX Takedown wakeup attempt.

Game 3 much like game 2 came down to the final round but that Overhead Slash, paid off in spades. Tweedy hitting two of them within the last 15 seconds to take the game and the set.


Grand Finals
ESP Black and ADM Fierce faced off in the Loser Final (
Uploading
). Pulling out all the stops both players wanted their run back with Tweedy. Scorpion Vs Sonya, Special Forces Vs Shirai Ryu, Grenades Vs. Spear, who came out on top? The Spear Toting Ninja of Earthrealm, Scorpion.

The Stage was then set for the rematch to be on. Would Black be able to adapt, could he complete the download or will he be relegated to holding no glory on this day?

The First Game out of the Gate of Grand Finals, ESP Black set the tone quick. In less than 90 Seconds he had already taken game 1. Making big reads and capitalizing on every damage opportunity. People in the chat wondering if Tweedy was shook.
Game two was a different story altogether. Tweedy responded with a tough victory. Getting good punishes on teleports and utilizing the overhead/low demons to perfection in order to tie the set 1-1. However game 3 was one hell of a ride. Each player was making good reads and fighting for advantage in the neutral game. Each player showing respect for the others righting acumen. However after trading rounds, the winner of the this would take a 2-1 lead in the set. But no one predicted this mad disrespectful run-in finish!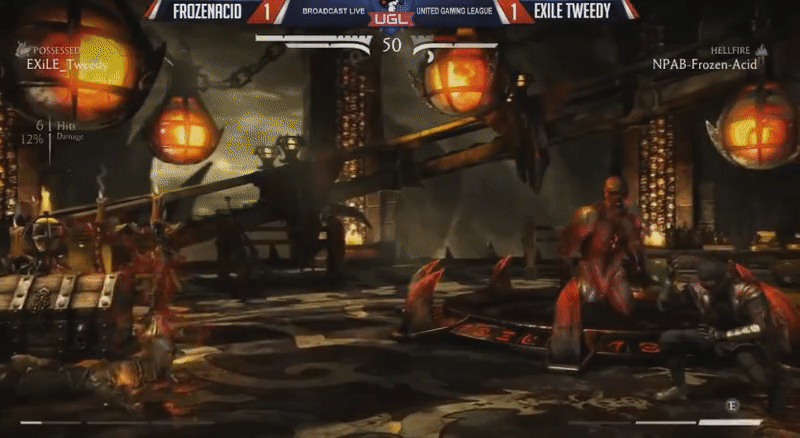 Game 4 Was more like game one. Black using his flame aura to extend combos and making good reads with the spear catching jump backs! Two straight victories for ESP Black setting ourselves up for a BRACKET RESET!


With the Bracket reset and the chat going in on Tweedy we were all set for a hype end to the event and these two didn't let us down! After traded blows, crazy fisticuffs, and even more god like conversions ESP Black not only reset the bracket, but Takes the Tournament 3-1. His Hellfire Scorpion was a feast for the eyes, putting in work on the only person who couldn't see him.. Kenshi! Peaking at 116 unique viewers made this a successful first event and we'll be back for more.

The Next Event is set for December 17th, 2016. Sign Ups will be open later this week!
Contact Information
Feel free to contact @Xavier Marx directly on TYM or the UGL
Twitter
for Information. If you want a direct avenue to the founder of UGL, E-mail all questions to
[email protected]
or to contact other staff.

Twitter:
RealXmarx
Twitter:
RockawayCarter
​