As some of you know, i was one of the few persons who grew very fondling of this DLC character that was introduced in MK9, kinda sad she didn't made a return in XL until now, but doesn't mean NRS has abandoned her for possible future games, this thread its a long overdue, and in here, i will explain why i enjoyed playing this character so much, her whole gameplay spectrum, key moves, and what are my toughs on possible future Skarlet configurations.
First of all, i wasn't this interested in the character at first, until i've seen an interview on crowd about what they think of the new character introduced as first DLC, so i looked to her gameplay a bit and saw Paulo explaining the character basis on another video.
When i purchased the character a year later (2012), what immediately caught my atention, was the fact that different from the other female considered Ninjas in the MK world, Skarlet was introduced as a real kunoichi who used actual kodachi swords, kunai, just like a tradictional ninja her powers aside got me imediately hooked to main.
The grind has become, and at first it was just the armor, the conditioning slide and the overheads, blockstring its something it came out later when i started to browse more TYM religiously and met other Skarlet players like
@Ninj
@Red Raptor
@ROG Moonspell
@SaJa
@UsedForGlue
@AK L0rdoftheFLY
and of course the one who we repped the best Skarlet in Tournament competition
@FCP/EMP SCAR
.
So what was Skarlet, and what were her Key moves?
Skarlet was a character that had a lot of red dash canceled pressure being from -10 to -3, she had no empty dash plus pressure of any sort so she was susceptible to lose her turn most of the time, but still, she could cancel her empty dash at any point with a up slash that was 14f, a down slash that was 8f and a slide that was 8f startup and -3 when blocked, so it would challenge people to not randomly press buttons on her pressure, but this was just the basics.
Further on as the game progressed we found out how this character could play neutral, force 50-50s and have one of the most amazing whiff punishing tools in the game.
As some of you know, Skarlet could loop her 212,1+2 pressure blockstring if catched someone blocking standing by canceling with ex dagger which canceled was +21 on block, allowing for her string to loop into itself locking people up in standing position until she misses the link window or runs out of meter, doing 10% chip damage with each loop.
This originated a game where Skarlet players would force people crouch block in order to avoid her building this much meter, which in consequence opened for Overhead launchers far more at any range, and this is where the character would shine, players often worried about overhead would stand block to defend it making them vulnerable for standing jail blockstring loops being the slide from the red dash her safest option. This was part of her 50-50 game since she didn't had a low combo starter, her mixup was either she could blockstring you and build bar, or you would crouch to avoid the loops and get caught by the overhead.
Key moves:
Her neutral wasn't that bad either, she had a pretty good walkspeed among the top 3 characters in the game.
The daggers did only 1% damage and no chip, but worked well as long range pokes, they could be thrown airbone to control the flow of the match and space as well.
Red Dash being what it was, with armor was insane, 29 lasting armor frames by default ona 27 duration red dash, could be extended to upslash for 30ishs, and 45 with the most delayed down slash at the very end of a crimson dash, empty crimson dash would let her 2f of free armor to move around.
F4 was a mid that could high crush anything that could hit high on trades, had a good range and was very rewarding on whiff punish canceled from red dash was -10 on block
F43 was the safe ender of the string putting her on a good spaced position.
114 was neutral on block and added a perfect push back to whiff punish with F4
112 was a restand string that would allow for 50-50s on every combo canceling 112 into red dash, the highest plus frames she could get from a restand was +13 which she could jail standing with a 10f normal if people blocked high out of the restand.
B114 was one of her best strings for launching characters
F212,1+2 was probably her most used string, since 114~ex dagger would jail standing to apply the loop, the guaranteed jail was pretty strong and taking a hit on the wrong part of the string would give skarlet a full combo into another restand.
212 was also a very good string, being a 12f anti air
The Scar's special, was canceling the red dash with a down slash after a restand to punish players crouch blocking to avoid the loops.
U3 was a move considered slow for some, but there was something strange about it, possible disjointed hitbox, because you could use it to AA a lot of characters out of the air
U34 had a weird timing input, but was neutral on block and could be canceled with low daggers which was -3 on a standing opponent.
Low daggers was one of her most broken specials in the game, it took advantage of the knockdown system to pick up character from the ground no matter if they delayed or not, forced meter drain glitches, when it hits meaty on block was at least +2, and when meaty on hit was at least +15 leaving her with a full room to pressure while disabling most of the powerful wakeups since they could be used before the wakeup window becomes available, stuff rolls and use it to nulify unsafe NJPs, jump attacks all canceled into low daggers for safety.
Ex version she would spread 3 at 3 different directions, when blocked up close it was +3 on block on a standing opponent.
F312, B24 and F33 weren't that much of a good string, but some players still made good use of them.
She had a 10f punish with: s1~rd~ex uplslash
a 13f unreactable overhead with: ex downslash from red dash, which was very punishable if blocked
a 18f low with her red dash into slide to condition people to block low, in order to open them with overheads
a 14f high crushing mid combo starter
a restand into 50-50s
a string that build a lot of meter, and looped into itself.
Oki setups and capacity do disable wakeups at all times far more than anyone else.
If any, most people at first though on skarlet as this crazy rushdown character, if you watch it close, you would see her more of a footsie character that had tools to go crazy on the right time.
But there is no perfect world, Skarlet also had very obvious weakness, she couldn't wakeup without meter, her teleport was pretty bad, her blood ball was very slow, her dagger had a very tiny hitbox and did no damage, iaD was pretty difficult to use, and most people struggled enough to open crouch blocking people without good experience.
But she was still very fun to play at high levels.
If Skarlet is ever to return to the MK world MKX or not, pretty sure she won't be the same, as for starters things that i'm sure will be different.
Her low dagger won't OTG anymore: Considering the current meta of MKXL no special attacks hits grounded opponents unless the ones that do damage over time like caltrops.
Her blockstring loop if its there it will be very different, because now you can stand or crouch while blocking, this mechanic is gone in MKX.
Her kunais hitbox will probably be bigger.
That's about it, but there are things i expect to see
there was a way to used red dash that upon activation it would run under projectiles that could be ducked, hope NRS someday changes her regular red dash into a cheetah sprint (ninja run stance with the body inclined forward so low that can go under highs.)
Something like this: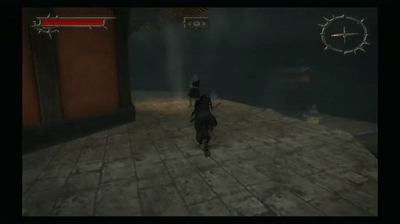 F43, F212,1+2, 112, 114 and U34 returning on her key moves tool set
More Ninja moves would be cool
The vita costume was thousand times better than the console version, having a Ninja dressed properly as one.
Maybe Skarlet won't return to the roster so soon, maybe in the next franchise, but when she does, want to be alive to see it, and play it.