As a loyal player of NRS games and a Rainbow Six; Siege player, hetre's my idea for a DLC guest character :
Tachanka :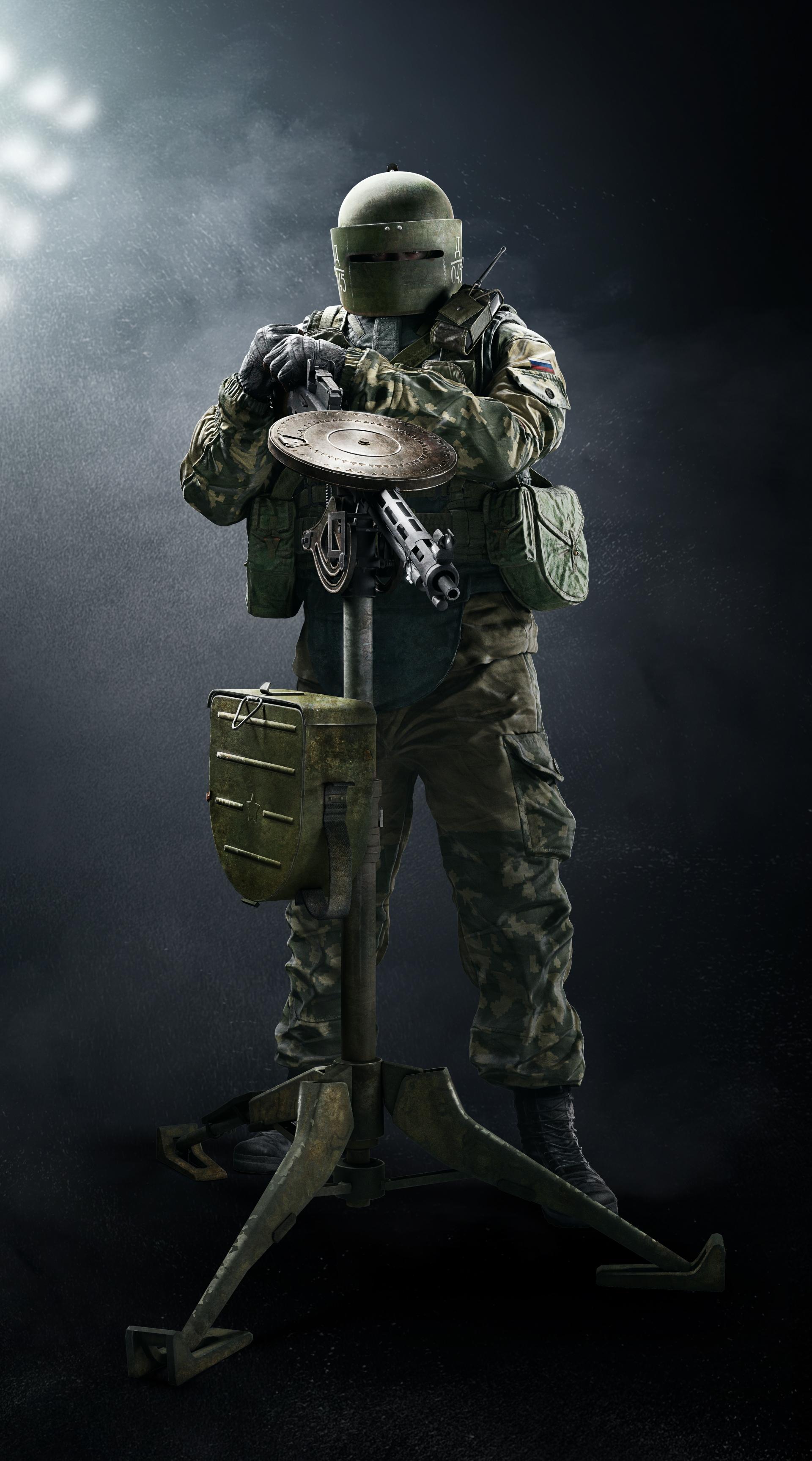 (Lord Tachanka or Chanka for those in the know)
Alexsandr "Tachanka" Senaviev is a Spetznaz operator in Rainbow Six Siege, he has the ability of deploying a DP-28 LMG turret. He has become a meme among the R6 Siege community.
Here's some ideas of special moves that can fit the character and his gameplay :
Special moves :
9x19VSN Shots : Tachanka fires 3 shots with his 9x19VSN SMG, hits high, unsafe
(MB) 9x19VSN quick fire : Chanka fires 2 extra times, hits high, safe on block
PMM shot : Tachanka fires a shot with his PMM pistol, hits low, unsafe
(MB) PMM quick fire : Fires 1 extra shot, hits low, less unsafe than the non-MB version
Barbed wire : Tachanka deploys a barbed wire on the ground, preventing the opponent to jump
(MB) Razor shave : Tachanka deploys his barbed wire quicker, prevents the opponent to jump and deals a few damage over time.
Chanka can deploys up to 2 barbed wires in the same time.
Knife stab : Tachanka grabs and stabs his opponent with a six inches blade and kick him out on the ground, hits mid, leaving the opponent in hard knockdown, unsafe
(MB) Knife swing : Same as Knife stab, but Tachanka stabs a second time and leave the opponent standing, allowing for a reset, very unsafe
Nitro cell trap : Tahanka throws a nitro cell on the ground, it can be placed at short, medium or long range, it can be detonated anytime by repeating the input of the special move, hits low, slightly plus on block. A living nitro cell is canceled if a "round" ends (when P1 or P2 switch to the red life bar)
(MB) Nitro cell mine : Same as the normal version, but the nitro cell automaticly detonates when the oppponent is too close of the nitro cell, slightly safe on block, hits low, allows to juggle
(I know he doesn't have a nitro cell in R6S, but he borrowed his russian buddy Kapkan's)
Deployable shield : Tachanka deploys a shield that blocks up to 3 mid/low hits and lasts 15 seconds if not destroyed by the opponent, Tachanka can still be hit by high/overhead moves if he's standing right back the shield and high/overhead projectiles passes over the shield. Tachanka or the opponent have to jump over the shield to get closer.
(MB) Montagne shield : Tahanka deploys a shield that blocks up to 6 mid/low hits, lasts 20 seconds if not destroyed and recovers really fast.
Trait :
Deployable DP-28 : Tachanka deploys his DP-28 LMG. it has a mounted balistic shield allowing the user to resist up to 2 high/overhead hits. The DP-28 stays on the battlefield once deployed and can be used by both players, the LMG can be picked up by Tachanka. The shield resets if the LMG has been picked up and replaced.
The player enters in the LMG by pressing the trait button (4 default) and can fire in three directions : straight line (pressing 4), up (u4) and down (d4) (like Predator's Plasma canister in MKX), straight shooting hits high, and down shooting hits low.
You can leave the LMG by pressing b4.
Tachanka can pick up the LMG by pressing d4 when he's not in the turret.
Super Move : Tachanka fires 3 shots of his SASG-12 (his automatic shotgun) in the head of his opponent, leaving him stunned, then Tachanka quicly deploys his LMG, throws a nitro cell on the opponent's feet and detonates it. The explosion launch the opponent in the air and Tachanka juggles with the opponent by shooting him with his LMG.
Clash win animation : When winning a clash, Tachanka brutally punches his opponent in the head, leaving him stunned, and throws a nitro cell on the opponent and detonates it.
Victory pose :
Shortened version of this :
PLEASE NRS, make this happen !!!
ALL HAIL LORD CHANKA {-}7
PS :