Hey guise!
Here is a dbfz universal system-mechanics complete guide *WORK IN PROGRESS*
i have gathered and translated the infos from several sources.
table of contents:
-notation
-button layout
-mobility
-health gauge
-ki
-universal system mechanics
-assist mechanics
-defensive options
-combo system
-dragon balls
Notation: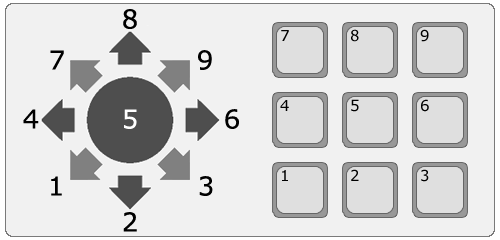 Buttons:
Light Attack (L): Basic attack. Short but fast.
Medium Attack (M): Medium attack, usually with good range.
Heavy Attack (H): Heavy launching attack (Smash).
Special Attack (S): Ki blast button.
Z Assist 1 (ZA1): Assist button, allows us to call our first assist character.
Z Assist 2 (ZA2): Assist button, allows us to call our second assist character.
Shortcuts:
Dragon Rush (L+M): Universal throw with long startup.
Super Dash (S+H): Automatic, homing dash that tracks the opponent.
Ki Charge (L+S): Charges the KI Bar.
Vanish (M+H): Teleports behind the opponent
Sparking Blast (L+M+H): One use comeback mechanic that enhances the character)
Mobility:
Every character shares these universal mechanics
Jump: (7, 8 o 9) Jumps towards the chosen direction
Super jump: (pressing 27, 28 o 29) Jumps towards the chosen direction but with more height.
Double jump: (press 7, 8 o 9 after a jump or a super jump). Jumps twice in the given direction
Forward dash: (press 66) forward sprint limited in distance. You can block immediately after using it.
Back dash: (press 44) every character has a backdash, but it remains to be seen if they have invincibility (which I doubt due to the long distance they cover)
Air Forward Dash: (66 while airborne) Universal airdash. You can block or perform an action immediately after doing it.
Air Back Dash.: (44 while airborne) Every character has a universal backdash, but compared to regular air movement these backdashes have a small downward angle that allows the character to land faster than from a regular front dash.
Health Gauge:
The Health Gauge indicator, at the top of the screen, is divided into different colors:
-Green, the character has 100% life.
-Yellow indicates the remaining available life.
-Red indicates the current damage done by attacks and combos.
-Blue indicates life that can be regenerated. Characters can restore their lives by replacing them with teammates or by activating Sparkling Blast.
If a character blocks special moves and supers he can receive chip damage. However, said chip damage can't kill the opponent, no matter the move used.
-Black, all lost life.
Ki Gauge:
The ki indicator allows you to use different EX Moves, Supers and some defensive tools such as switching characters while you're on blockstun
The KI Gauge is divided in 4 sections which seem to be just an aesthetic choice, and it can store up to 7 bars.
Ways to increase the Ki Gauge
Move forward by walking, dashing, jumping or airdashing
Using L+S (Ki charge) charges your KI steadily. However, the early part of the animation has a very slow KI Build up and a high recovery, which will most likely get you punished by the opponent
Blocking (great amount of KI per blocked hit)
Hitting (great amount of KI per landed hit, a bit more than a blocked hit)
Receiving damage (short amount per hit)
Some KI absorption moves (for now, A18 only)
Note : If you use moves that use Ki (EX moves, Supers or Vanish) , the amount of Ki you receive from the combo will drastically be reduced from that point until the end of the combo.
Universal System Mechanics:
-
Wallbounce
(5H)
-
Anti Air
(2H, air)
-
Overhead
(6M)
-
Super Dash
(H+S, air)
Super dash allows all characters to launch themselves towards the opponent and hit them while in the air, but it does not hit overhead. The super dash tracks the opponent no matter where they are or where they move to, making it very reliable in chasing down the opponent.
This move can be used to cancel normal moves as if it were a special move of its own, and even moves with smash properties (launchers such as 5H, 2H or j.2H) have their own followup by pressing H again without having to press Super Dash's two button combination, like if it were another auto combo.
Advantages:
Very good anti-zoning tool, as it absorbs projectiles taking no damage and not being slowed by hitstop.
Allows you to ignore almost entirely the opponent's location, as it has very accurate tracking.
Good active frames. Can chase down different types of tech without stopping until it hits the opponent, making it good for airborne meaties (not so much grounded, as Super Dash cancels itself when you reach the ground)
Even if an assist gets in the way, you can still hit it without HitStop. Assists also won't stop you from reaching the other character.
Even despite all these excellent advantages, the move is still remarkably fast.
Disadvantages:
Mediocre Hitbox. Can be traded with or beaten with other moves, remarkably 2H.
Powerful projectiles such as Kamehameha, Destructor Disk or Supers can go through the projectile invincibility and hit you out of the super dash.
Because it's an airborne hit, anti-airs will be effective against it, gaining invincibility.
Can't kill the opponent on its own, although it's not a strong disadvantage due to any regular normal killing on follow-up.
-
Dragon Rush
(L+M, air)
Dash forward and attack the enemy with an unblockable flurry of blows, resulting in a launcher. Effectively the basic throw of the game. Can not hit opponents in blockstun, but can be used mid-combo. Comboing into Dragon Rush will result in a soft knockdown instead of a launcher. A character about to be hit by a Dragon Rush can press any button to tech out, causes the two characters to clash with a flurry of blows and then break away from each other. Pressing A1/A2 during a successful Dragon Rush will knock out the opponent's character and swap in a new one depending on which button was used, similar to a Snapback in the Marvel vs. Capcom series.
Your opponent can dodge Dragon Rush in several ways.
Pressing any normal button or Dragon Rush (even if this last option won't catch the opponent in time) . This way, the two opponents will exchange blows and return to a neutral state. Neither will receive damage this way.
Moving to a different height to avoid it.
Instant movement techniques such as Super Dash or 6M (which places them in an airborne state) . The concept is the same as jumping out of it, allowing for a punish.
Being in blockstun. Dragon Rush can't hit you if you're being forced to block something else, preventing an unblockable situation.
If Dragon Rush hits you, there's nothing you can do. You can't tech out of it due to a tech window time like in other games, so you should react by the time it's on startup.
As a rule of thumb, you can't kill your opponent by Dragon Rush alone, but the follow up hit after the launcher will kill, much like it happens with Super Dash.
There are two other ways to use Dragon Rush. As a combo ending tool to cause hard knockdown (this version CAN kill the opponent without an extra hit)
-
Ki Charge
(L+S)
Hold down to charge your Ki Gauge. Timer is paused while charging. Ki increases slowly at first but increases faster the longer Z Charge is held. During Ki Charge, you're in Counter Hit state and there is significant recovery after you stop charging.
-
Sparking Blast
(L+M+H+S, air)
Does a GG/BB-esque Burst attack that increases your power and cancel options for a limited time. Only affects the character who does Sparking Blast - changing characters does not transfer this power-up. Can only be performed at neutral or by canceling a normal or special on hit or block. Comboing into Sparking Blast pops the opponent high into the air, similar to a P4A One More! Burst or a BBCS Gold Burst. Unlike GG/BB, Sparking Blast is not a defensive mechanic, as it can not be performed while in hitstun or blockstun. Costs 1 Sparking Icon.
Attack power increases
Ground normals can be jump canceled, air normals can be dash canceled
Quickly recover blue health while being the point character
Sparking! lasts longer the fewer characters you have on your team
Hold buttons during a Vanish Attack to teleport behind the opponent without attacking and recover almost instantly
-
Vanish Attack
(M+H, air)
Teleport behind the opponent and attack. If done mid-combo, will wall bounce the opponent, allowing you to continue the combo. If done at neutral, will blow the opponent away instead. During Sparking!, hold M+H to teleport behind the opponent without attacking and recover almost instantly. Costs 1 Ki Gauge.
Assist Mechanics:
-
Z Assists
(A1/A2, air)
Call your teammate for support. Each character has a preset attack for Z Assist. After using a Z Assist, there's a cooldown on using that same teammate for another Z Assist or a Z Change. Cooldown will not commence while the opponent is in stun, but will continue if it has already commenced. Can call multiple assists at the same time. Can call assists in the middle of your own attacks (except during supers), but not while blocking/getting hit.
-
Z Change
(Hold A1/A2, air), Quick Z Change (6+A1/A2, air)
Switch your current character with a teammate. Your teammate comes in with a Super Dash. After using a Z Change, you cannot use your teammates for anything else for a short time. Following that, there's a cooldown on using the character that was called back for a Z Assist or another Z Change. Cooldown will not commence while the opponent is in stun, but will continue if it has already commenced.
-
Guard Cancel Change
(6+A1/A2 during blockstun, air)
Switch your current character with a teammate while blocking. On hit, the opponent is knocked away. After using a Guard Cancel Change, you cannot use your teammates for anything else for a short time. Following that, there's a cooldown on using the character that was called back for a Z Assist or a Z Change. Cooldown will not commence while the opponent is in stun, but will continue if it has already commenced. Costs 1 Ki Gauge.
-
Ultimate Z Change
(A1/A2 or 4+A1/A2 during a Super Attack or 41236+A1/A2 or 63214+A1/A2 after connecting an attack, air)
Tag in with a teammate to perform their Super Attack or Meteor Attack. Inputting A1/A2 during a Super Attack or 41236+A1/A2 after connecting an attack performs the selected teammate's 236+L+M Super Attack, whereas inputting 4+A1/A2 during a Super Attack or 63214+A1/A2 after connecting an attack performs their 214+L+M Meteor Attack. Characters tagging out will be on cooldown for Z Assist or Z Change, but a teammate can be brought in for an Ultimate Z Change regardless of their cooldown. Costs 1 or 3 Ki Gauges.
Defensive Options:
Airborne Tech:
-Backroll tech (1,4,7)
Full invincible backroll
-Forward Roll (3,6,9)
Full invincible forward roll
-Down tech
full invincible downwards roll
Ground
:
-Neutral tech (5)
Full invincible backroll
-Up tech (hold 8)
Full invincible backroll into airborne state
-Hard Knockdown (hold 2)
We will force the character to remain grounded, with no OTG possibility.
Hard Knockdown Properties
:
When a character lays on the ground, be it a forced state or not, they stop being vulnerable to regular hits or proyectiles in the game. Therefore, OTG combos (On The Ground) do not exist in this game with regular moves.
However, there is one exception. In the Forced Hard Knockdown state caused by the opponent, he can use a Super Move of any kind (grab, projectile, hit, etc) and this Super will work as OTG. If this Super allows for a combo extension after it, it will be performed normally (which differs from Guilty Gear, in which the damage will be drastically reduced as well as the hitstun timer and pushback when hitting someone with an OTG)
-
Deflect
(4+S)
Universal anti-pressure tool that pushes back the opponent if he tried to hit you with a move that isn't a projectile. Assists can be pushed back too. This mechanic may remind you of the Pushback system in games such as MVC, but it works quite differently:
It has to be done in a neutral state, not during blockstun
Has a unique animation that will prevent you from doing any other actions.
Absorbs and reflects all kinds of hits and projectiles, even Supers, but not Dragon Rush or Command grabs. Receives no Chip Damage or Hitstop
Effective from frame 0, but when its invincibility ends it has a short window of time in which it can be punished. This recovery state is also counter-hit state.
Deflect doesn't deal any hit, but pushes the opponent away when the game realizes that deflect absorbed a hit.
If you manage to deflect a hit, the rest of the animation frames, including the recovery period will gain deflect property until the entire animation ends.
If you deflect a hit, you can cancel into any other move, working like a Clash System.
Can be used to cancel normals.
Can only be done while on the ground.
It's important to note that Blockstun caused by Ki Blasts can be canceled in Deflect and Super Dash!
Combo System:

One of the most important things about the combo system are its multitude of launchers, the choice of the right one depends on the situation and game plan! The game handles interactions with launcher as follows:
A successful launcher activates the "Smash!" Mechanic, which changes the properties of Normals and Specials. Specifically, j.H receives the most important change: The Normal now causes a hard knockdown.
Launchers can be automatically followed with a Super Dash by entering 5H again. Alternatively, the Super Dash can also be executed manually with the usual input. This mechanic called "Chase!" can also be done with another team member. Similar to the "Z Change" you can exchange the current character with Z1 or Z2.
Now let's take a look at the individual launcher in detail:
5H: This normal is the basic tool for damage for almost all characters. Due to its long range, 5h can easily be used in combos in many situations. Each hurls the opponent across the stage (a lot of Corner Carry!) And makes him bounce off the edge. Due to the wallbounce j.H loses his hard knockdown property.
2H: In contrast to 5H, this one has shorter range, but a great anti air. This launcher is harder to use because it leads to strong Okizeme situations.
j.2H: This version increases the combo potential of hits in the air. Works almost the same as the ground version. Not all j.2H in the game are the same! There are many character-specific exceptions, such as Cell and C16.
Dragon Rush: As a launcher, Dragon Rush works on hit as well as 2H. The combo system calls this "Rush!". Dragon Rush within a combo, ends the combo.
Autocombo L: The third unique Normal of the light autocombo is a launcher. In addition to the previously mentioned properties, another one is added: j.H activates "Dynamic!" and wallbounce now in the corner.
The limitation for each combo is as follows:
1 smash! or 1 rush!
1 chase!
1 Vanish
1 Dynamic!
1 Sparkling Blast
1 rush!
Last edited: