Joke characters are known for being awkward/over-the-top and/or having a clumsy/strange playstyle. I'd make a distinction from actual characters that happen to be funny and charismatic, like Johnny Cage and Faust.
Also, joke characters' lore is usually weird or silly. And sometimes they're parodies of other characters! In the end I think they're meant to be funny just for the sake of it. However, the sense of comedy is very subjective, so what's funny for some it isn't for others.
Dan Hibiki (Street Fighter) is probably the king of joke characters.
He's Capcom's response to SNK getting too much "inspiration" from SF characters for their Art of Fighting games. Dan has the handsome face and hairstyle of Robert Garcia, the (pink) clothes of Ryo Sakazaki and the thumbs up pose of Yuri Sakazaki.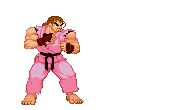 Mortal Kombat has a few characters considered to be joke characters. Meat is one of them:
Like seriously lol
They tried to flesh him up a bit in Armageddon but still... his story is really weird and pointless lmao
Mokap, who was a tribute to Carlos Pesina but his role in the game was just meant to be a funny character.
And of course Bo Rai Cho, who fights with farts and puke. Not everyone is a fan of him lol but he managed to be playable in MKX! Nicely done, Bo Rai Cho.
Skullgirls has two joke characters. One of them is Fukua, she was introduced in an April Fool's Day joke trailer back in 2014, which was a parody of Capcom's Decapree announcement that was seen as a huge letdown by everyone at the time.
She re-uses a lot of Fillia's sprites but plays very differently. Fans liked her and asked the devs to keep her in the game. Then she received a story mode that was very strange lol
The other joke character is Robo-Fortune. The reference to Robo-Ky is clear, but she also "plays" like a Guilty Gear character in some way. The thing with Robo-Fortune is that she is loaded with silly puns and quotes and her story mode is incredibly silly with some cuteness and epic moments.
Long cat is long
She is mostly valued by her Theonite assist. But I use her kinda seriously lol right now she's kinda my main
I've seen Jam Kuradoberi from Guilty Gear be considered a joke character by some players. She has a good moveset, but she's also very loud and obnoxious lol and her whole story is very wacky. There's this point in the timeline where a bounty is placed on Dizzy's head and many bounty hunters show up to try to kill her and claim the reward... and Jam shows up because she wants the money to start her own restaurant. After everything happens and nobody claims the reward, she does and starts her restaurant... that burns down for some reason.
Would you consider Mokujin and the bears from Tekken to be joke characters?
Despite their wacky antics, joke characters can be deadly! I think it's because sometimes people don't really know how to deal with them, especially when they have awkward and unpredictable playstyles.
Do you play joke characters?
Have you ever been defeated by one of them?