I'm writing this because I've received more than a few requests for help regarding laying out buttons both on a Sanwa/Japanese style/American 6 button stick and for people attempting to adjust to playing on an MK style layout.
Both sticks work very well in terms of button layout, but I've put some serious thought into button placement, and I've come up with PERSONAL favorites for each style stick.
I believe these are intelligently designed with the greatest "ease of use" in mind. I believe it's always better to "work smarter, not harder", so these layouts are designed with that in mind... JUST BECAUSE YOU CAN DO SOMETHING DOESN'T MEAN YOU HAVE TO... ESPECIALLY IF THERE'S AN EASIER OPTION!!!
Of course, personal preference will ALWAYS prevail, and keep in mind that these are MY personal preferences...all I'm doing is passing on my personal preferences and findings to you.
So lets start with the Basics, the buttons... I use universal notation for both (all 3) systems.
1 - Light Attack
2 - Medium Attack
3 - Hard Attack
P - Power
MB - Meter Burn
FS - Flip Stance
INT - Interact
THR - Throw
Full Inputs for buttons that have macros(2 or more buttons bound to a single button)
1+3 - Throw
1+2+3 - Meter Burn
1+2 - Interact
2+3 - Flip Stance
2+3+MB - Super
On a technical level, Injustice REQUIRES the use of 5 buttons:
1, 2, 3, P, and MB
This is because the Super REQUIRES the use of both MB and FS to execute. Since the non-short cut version of MB (1+2+3) already contains the non-short cut input for FS (2+3), you can't simply input 1+2+3 and expect a super to come out...because 1+2+3 is MB, and a Super requires you to press MB and FS simultaneously. Due to this, Injustice requires the MB Button as a 5th gameplay button.
ALL OTHER INPUTS CAN BE DONE ON A STANDARD STICK WITHOUT SHORTCUT BUTTONS!!!
Confused?
I have pictures to make the transition easier and show you, in my opinion, what is the easiest to use layout. These layouts (for a Japanese OR American 6 button stick and for an MK Layout stick) maximize ease of use and minimize having to play a game of twister with your fingers to reach certain button combinations.
My PERSONAL Button Layout for both stick styles
One of the first things you'll notice is where I've placed MB on the MK stick. This is because it's where Block was, which is what was used for EX moves... making MB Moves in Injustice the same execution as MK9...just as you've been used to if you're using an MK Stick for Injustice.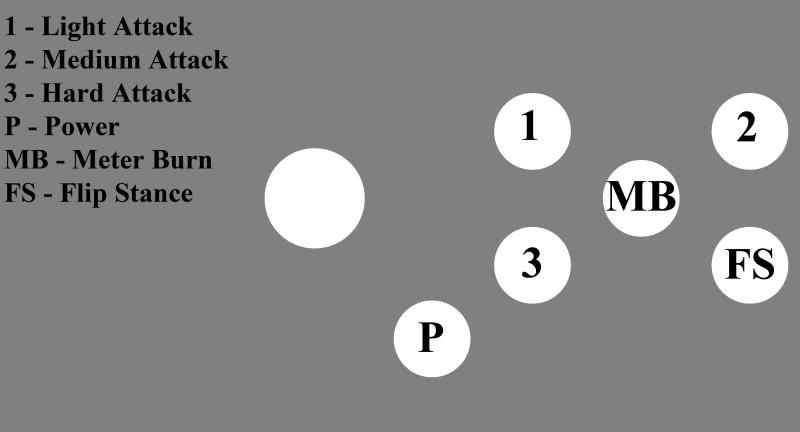 Here are the inputs (with a few explanations about WHY I do it this way AND where applicable, why I prefer to use a shortcut over a non-shortcut input)
Throw on 6 Button - Notice how throw is done just as you'd be used to doing it in a recent Capcom/SF Game? Just like 3s and AE!!!
Throw on MK Layout - Notice that if you never used a throw button in MK9, this makes throw IDENTICAL to MK9!!!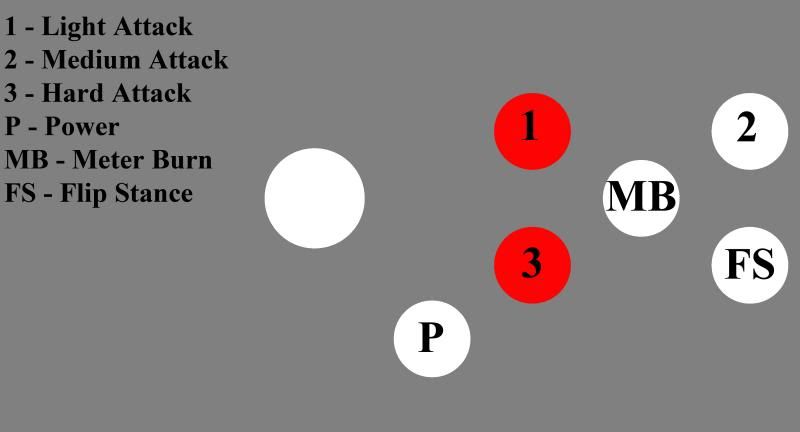 Meter Burn - 6 Button - No Shortcut
Meter Burn - 6 Button - Shortcut
I ABSOLUTELY RECOMMEND USING THE SHORTCUT BECAUSE IT'S EASY TO REACH AND HAS LESS ROOM FOR ERROR!!!
Meter Burn MK - No Shortcut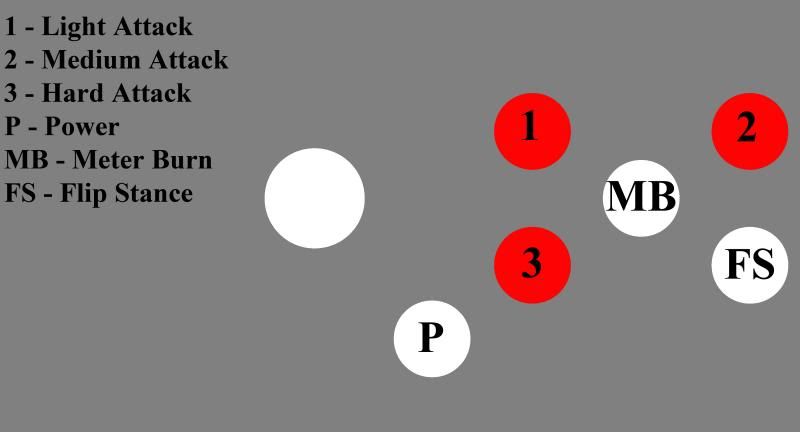 Meter Burn MK - Shortcut
AGAIN, I ABSOLUTELY RECOMMEND USING THE SHORTCUT DUE TO EASE OF USE AND LESS ROOM FOR ERROR!!!
Flip Stance - This is really an unnecessary button EXCEPT when you're doing a super(sort of, I'll explain later in the Super input section). Just like MK9, I'm not sure why anyone would use this button in gameplay for anything other than aesthetics.
Again, not sure why anyone would use it, but if you're going to, just hit the FS Button, it's easier.
Interact - 6 Button - No shortcut
I THOROUGHLY RECOMMEND USING THIS INPUT INSTEAD OF THE SHORTCUT. The shortcut requires the use of an 8 button stick and requires you to either have big hands or otherwise REALLY have to reach to hit that Interact button.
MK Interact - No Shortcut
If you've noticed, there is no Interact button on the MK layout. Again, it's pretty easy to just press 1+2 to use it, and as you'll see in the inputs for the Super, you need the buttons the way they are in the diagram.
Supers
6 button - No Shortcut
I personally prefer this input because I don't have to slide my hands AT ALL to press all 3 buttons. If you notice, 2+3 = FS, and we're hitting MB at the same time... so FS + MB = Super!
While My PERSONAL preference is to hit all 3 buttons because I don't have to move my hands, the shortcut input is TOTALLY viable and just as easy. It's personal preference, that's all.
The MK layout is funny. In this case I COMPLETELY RECOMMEND THE SHORTCUT. Take a look at how you'll mangle your fingers trying to do the non-shortcut method.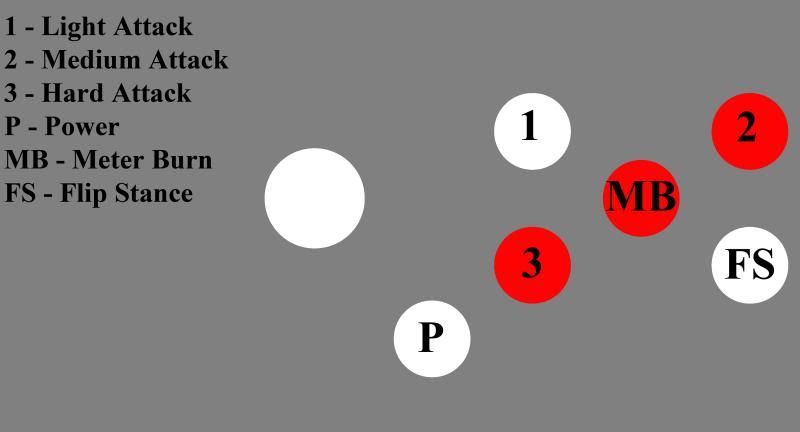 HOWEVER... THE SHORTCUT IS ALMOST EXACTLY THE SAME INPUT AS AN MK9 XRAY!!!
So there you have it. This is my PERSONAL layout for each stick. If you have any questions, feel free to ask.
HAVE FUN!